2017 Annual Appeal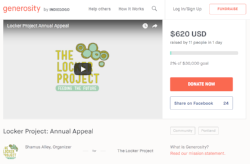 As the calendar year comes to a close, we are looking to fund our 2018 budget. Please consider helping in whatever amount you can so that we may continue to feed hungry children and their families throughout Southern Maine.
Click here to donate to our 2017 Annual Appeal.

As always, thank you for your support!

---
The Locker Project, in partnership with the Good Shepherd Food Bank, helps ensure food security for all Maine children through local schools. The Locker Project works with schools to create programs for providing students with healthy class-time snacks and take-home food for the times they are most likely to experience hunger.
We partner with other like-minded groups to bring nutrition, food budget, and healthy food preparation education to kids and families. We distribute fresh produce donated by local farms to Good Shepherd Food Bank at school events. We share neighborhood gardeners' harvests with families in need. We partner with Portland Rotary, the South Portland Food Cupboard, the Maine Academy of Nutrition and Dietetics, and Full Plates/Full Potential to assist schools in getting food to hungry children.
Schools we currently Stock:
Bayside Learning Community, Portland
Brown Elementary School, South Portland
Center for Grieving Children, Portland
Deering High School, Portland
East End Community School, Portland
Easterseals Maine Child Development Center
Hall Elementary School, Portland
Kaler Elementary School, South Portland
King Middle School, Portland
Lincoln Middle School, Portland
Lyman-Moore Middle School, Portland
Margaret Murphy Center for Children, Saco
Memorial Middle School, South Portland
Ocean Avenue School, Portland
Presumpscot Elementary School, Portland
The REAL School, Windham-Raymond
Reiche Elementary School, Portland
Riverton Elementary School, Portland, in partnership with Allagash Brewing Company
Skillin Elementary School, South Portland
South Portland High School
Westbrook High School
If you are interested in learning more about how your school can partner with the Locker Project to bring food to children in need, contact us today!
Want to volunteer for the Locker Project? Click here to fill out our online form to get started!